Comet P/2010 T2 (PANSTARRS)
Comet P/2000 Y3 = 2010 Q1 (SCOTTI)
The Edgar Wilson Award 2010
Comet 237P/2010 L2 (LINEAR)
COBS - 1 month since announcement
Two new comets have been discovered.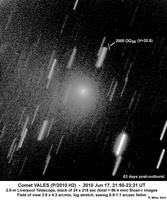 Meeting on Asteroids and Comets in Europe

Observation of a dust spiral structure in periodic comet P/2010 H2 (Vales)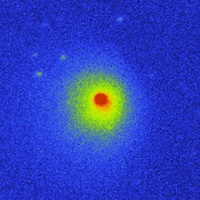 We observed the comet P/2010 H2 (Vales) in moonless conditions on May 1, 2010 using B, V and R photometric filters, as well as with the clear filter on the 0.6 m, f/3.3 Cichocki telescope at the Crni Vrh Observatory. The exposures, all of 8 minutes duration, were tracked on the comet and obtained between 19:46 and 20:31 UT. The pixel scale was 0.93 arcseconds.
Discovery of an extraordinary outburst of an unidentified moving object at Crni Vrh Observatory