Latest on Comet 103P/Hartley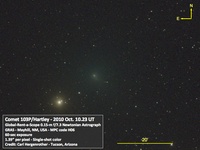 Comet 103P/Hartley is currently in the middle of Auriga moving to the southeast at a little over 3° per day. With closest approach to Earth on Oct. 20 (0.121 AU) and closest approach to the Sun on Oct. 28 (1.059 AU), the comet is as big and bright as it will probably get for this return. Unfortunately, the bright Full Moon will make observing the comet difficult for the next week and a half.
Comet P/2010 T2 (PANSTARRS)
Comet P/2000 Y3 = 2010 Q1 (SCOTTI)
The Edgar Wilson Award 2010
Comet 237P/2010 L2 (LINEAR)
COBS - 1 month since announcement
Two new comets have been discovered.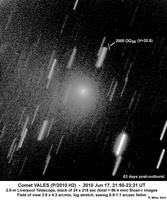 Meeting on Asteroids and Comets in Europe

Observation of a dust spiral structure in periodic comet P/2010 H2 (Vales)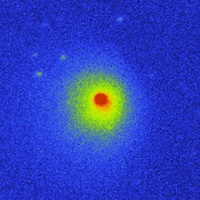 We observed the comet P/2010 H2 (Vales) in moonless conditions on May 1, 2010 using B, V and R photometric filters, as well as with the clear filter on the 0.6 m, f/3.3 Cichocki telescope at the Crni Vrh Observatory. The exposures, all of 8 minutes duration, were tracked on the comet and obtained between 19:46 and 20:31 UT. The pixel scale was 0.93 arcseconds.
Discovery of an extraordinary outburst of an unidentified moving object at Crni Vrh Observatory